We are thrilled to announce ClickHouse Cloud is now Generally Available on Google Cloud Platform (GCP) in three geographies - United States (Iowa), Europe (Netherlands) and Asia (Singapore).
This release is a major milestone in our cloud journey, as we expand to offer users more flexibility and choice for deploying ClickHouse services. In early May, we announced the Public Beta of ClickHouse Cloud on GCP. This milestone included features such as integration with Google Cloud Storage, end-to-end encryption, endpoint security controls with IP Access List, and many more.
In GA, we have added the following new capabilities:
Marketplace Subscription: Subscribe to the service via the Marketplace to consolidate your billing.
Private Service Connect: Advanced protection of your data on the wire by using Google Cloud's private network.
Disaster Recovery: All services come with daily backups, free of charge for two days.
Service Level Agreements: Available for users that sign up for committed spend contracts.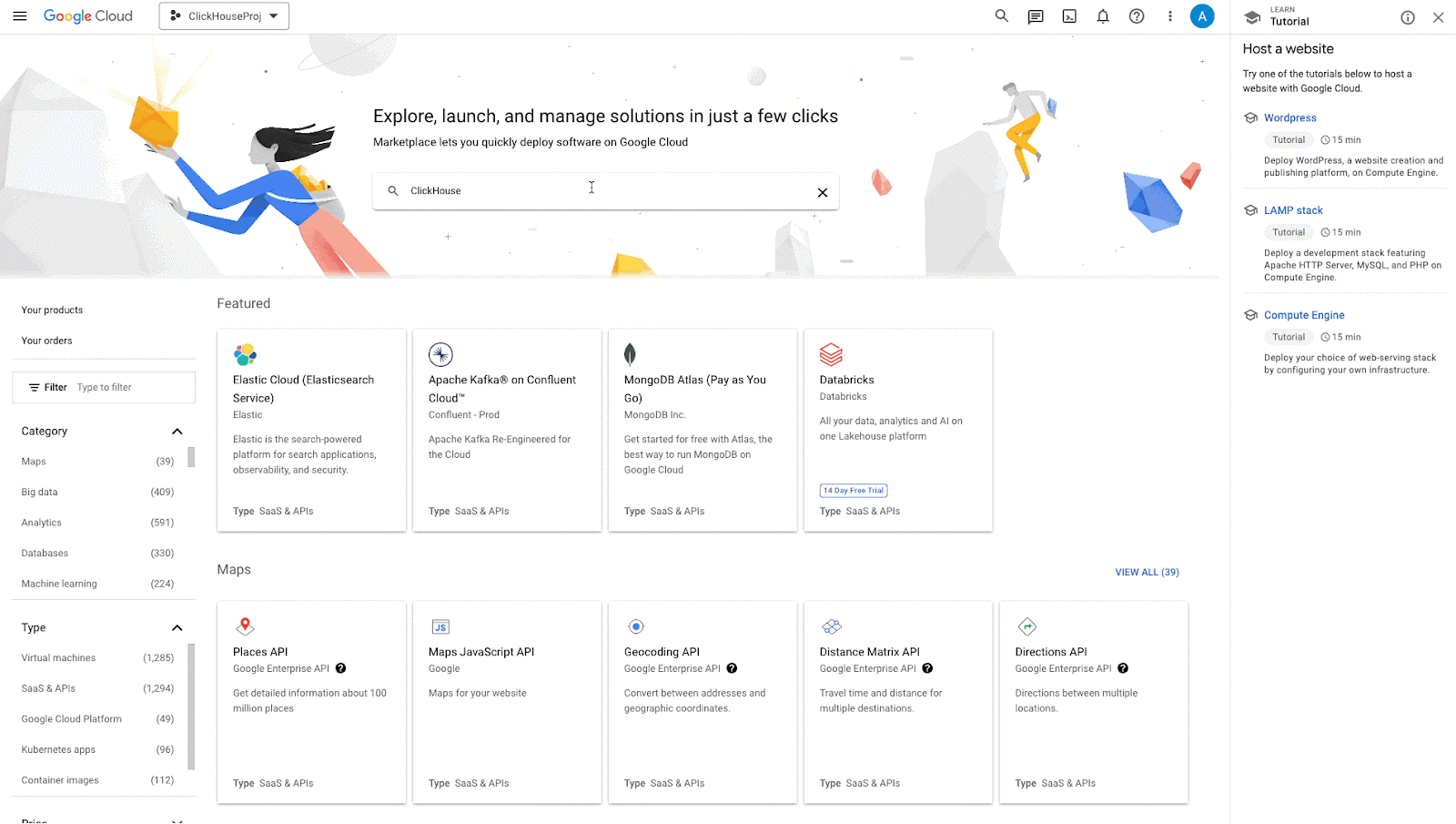 We are working on several improvements, including SOC 2 Type II and ISO 27001 certifications.
Hear from our customers
Nansen.ai
"We are absolutely thrilled with the ClickHouse Cloud service on GCP! The speed and flexibility of Clickhouse have exceeded our expectations. We are particularly impressed with the team at Clickhouse who consistently managed to meet our expectations. We are really looking forward to see acceleration on business value creation for Nansen thanks to this new partnership with Clickhouse and GCP"
Get Started
To get started, sign up here. ClickHouse Cloud offers users a 30-day trial with $300 in usage credits.
We offer different tier selections to give you choice for your deployment needs:
Development: Best suited for small workloads

Storage: Up to 1 TB
Memory: 16 GiB total memory

Production: Designed for production environments and workloads that need additional storage and memory

Storage: Unlimited
Memory: 24 GiB+ total memory

Dedicated - Coming Soon! Get in touch to discuss if this is the right option for you. This tier is tailored for demanding workloads requiring performance and isolation guarantees.
At the end of your trial, you can add a credit card to continue on a pay-as-you-go monthly plan, or reach out to us for volume-based discounts.
To learn more, contact us or visit our pricing page for more detail.