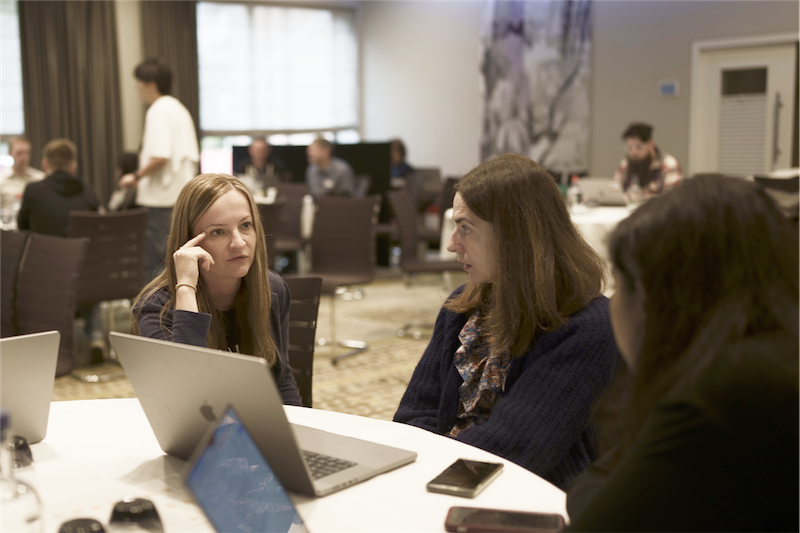 I often get questions about how I decided to become a product manager at startups, and what I learned over the years. The truth is, I had no such plan in life - I fell into the product management career somewhat by accident. But I have learned a few things along the way, and I will attempt to summarize the highlights in this blog. I hope it proves useful for folks considering a career in product management, especially at fast-growing technology startups.
How I decided to become a product manager
I grew up in a family of scientists and thought until a certain point that everyone had to eventually earn a PhD. When I went to university, I did not declare a major and started studying everything under the sun. I only later realized that I liked working with computers and therefore decided to major in computer science. I went on to become a technology consultant at Deloitte, one of the huge "big four" consulting firms, and while that was a great learning experience for customer-facing skills, it was not what I was looking for. We worked with a lot of legacy technologies at big bureaucratic companies, which did not feel innovative or all that interesting to me.
I realized that instead I wanted to bring new products to life, but I did not know how to break in. So I went back to grad school to study computer science again, but quickly realized that unlike my parents, I did not want a PhD. After getting my masters, I was just as lost as before as to what to do next. This is where I got advice from one of my professors to "look into product management". It sounded important, so I researched online and started interviewing at big companies in Seattle - Microsoft, Amazon, Google - regurgitating all the things I read and hoping they would believe I had the "right stuff" for an entry-level product management job.
Thankfully, at that stage, I was referred by another professor to a set of technical founders who were bringing a startup out of stealth mode and just got Series A funding. They did not have a product management role for me, but I agreed to join as a sales engineer (aka solution architect), running proofs of concept with early customers. I agreed to the role, because I was really curious about "working at a startup", but I was also very much enamored by the product and by the team.
As it turned out, this choice was the deciding factor in shaping my career going forward.
My product management experiences (so far)
ExtraHop was the first startup I worked at. It was a closely-knit 10-person team at the time, looking for smart, dedicated people to build a next-generation network and security analytics product. The company was led by incredibly talented technologists Jesse Rothstein and Raja Mukerji with a really sharp vision for the space, and a tenacious ability to execute. They built one of the strongest engineering teams I have ever had the privilege to work with. I started as the first sales engineer, but quickly became the de-facto PM, because I spoke with every customer and understood what they wanted and why. When I left the company 5 years later, I was the head of product with about 10 people on my team (the company grew from 10 to 400).
I left ExtraHop for personal reasons (a move to the Bay Area with my family) and joined Elastic, a 100-person startup around Elasticsearch, an open source project in the search and analytics space. I was lucky enough to join Gaurav Gupta, a seasoned product leader and a great mentor, as the second PM on his team. I knew nothing about open source, and was very curious about how to build a viable business around an essentially free technology. The company was led by truly visionary people, including of course the creator of Elasticsearch, Shay Banon, who remains a source of inspiration to me to this day. I went through years of very fast growth and an IPO with Elastic, working my way up from middle ranks of product management to head of product for the #1 revenue generating observability product line.
When I got the opportunity to lead product at ClickHouse, an increasingly popular open source project in the real time analytics space, it did not take much time to decide it was the right next step for me. While ExtraHop and Elastic were great learning experiences, I was not fully responsible for taking the first commercial product offering from 0 to 1 there. I really wanted to have that responsibility, and I knew I was ready for it. I was also inspired by the technology, which is taking the world by storm, the culturally-diverse and dedicated team, and the opportunity to work in an emerging market category of analytical databases.
My product management philosophy
I sometimes get asked what product management means to me, and what I think it takes to be a good PM.
The first part is easy. Product management is responsible for making sure that the organization is aligned around a vision and a plan for how to build the right product(s) to sustain a successful business. There are whole books written on the subject, so I won't opine in more detail here. My favorite book that simply explains the role of product management in relation to other roles at technology companies is "Inspired" by Marty Cagan.
How to be a good PM is much more difficult to describe. It depends a lot on the type of organization and team you are joining. As you can see from my experiences, I enjoy working at early-stage companies with very strong engineering teams. And as a result, I believe in building respectful and trusting relationships with technical leaders at the company, and being flexible about the role of product management depending on the stage of startup development.
But ultimately, I believe that a product manager is a leader that wakes up every morning, thinks about how to make their product successful in the market, and does what it takes to make it happen. The best and most succinct way I have seen this philosophy described is in Ben Horowitz Good PM / Bad PM blog. He says it is dated, but I think it stands the test of time.
If you got to this point, thank you for reading!
I just started a Medium site and will post product management and startup advice there going forward, starting with my first article "How to move to product management from technical roles".
You can also follow me on Twitter and LinkedIn for my thoughts about product management, startups, and products I'm currently building.
Tanya's Bio:
Tanya Bragin leads product at ClickHouse, the fastest open source analytical database. She has over 20 years of experience in the data space, ranging from data analytics, to search, to security and network analytics. She started her career in consulting and sales engineering, and spent the last decade and a half growing product organizations from early stages to maturity at three data analytics startups, ExtraHop, Elastic, and now ClickHouse.