Well, hello there! Let me introduce myself. I am Tim, the newest Developer Advocate here at ClickHouse! I've been here for about 2 months now, but you may not have even heard much from me yet! I've been around, but I've been busy learning. ClickHouse provides a really supportive environment that allows new team members to get up to speed and set themselves up for success. It's actually quite refreshing as opposed to having to just hit the ground running and produce on day 1, while you try and catch up at the same time. It's a really great work environment, and I highly recommend it. Speaking of, if this all sounds like your cup of tea, we have positions open! Check them out here!
Ok, back to the point! This blog isn't just to tell you about how great it is to work at ClickHouse. Though it is. I wanted to take a moment to talk about the multitude of resources I have been using to get up to speed with ClickHouse. I will be the first to admit that I was, and still am, absolutely not a ClickHouse expert. The good news with that, is that we get to learn together. And I get to help show you helpful hints, tips, and maybe some pitfalls along the way. So, how many different places are there to learn about ClickHouse? Let's find out!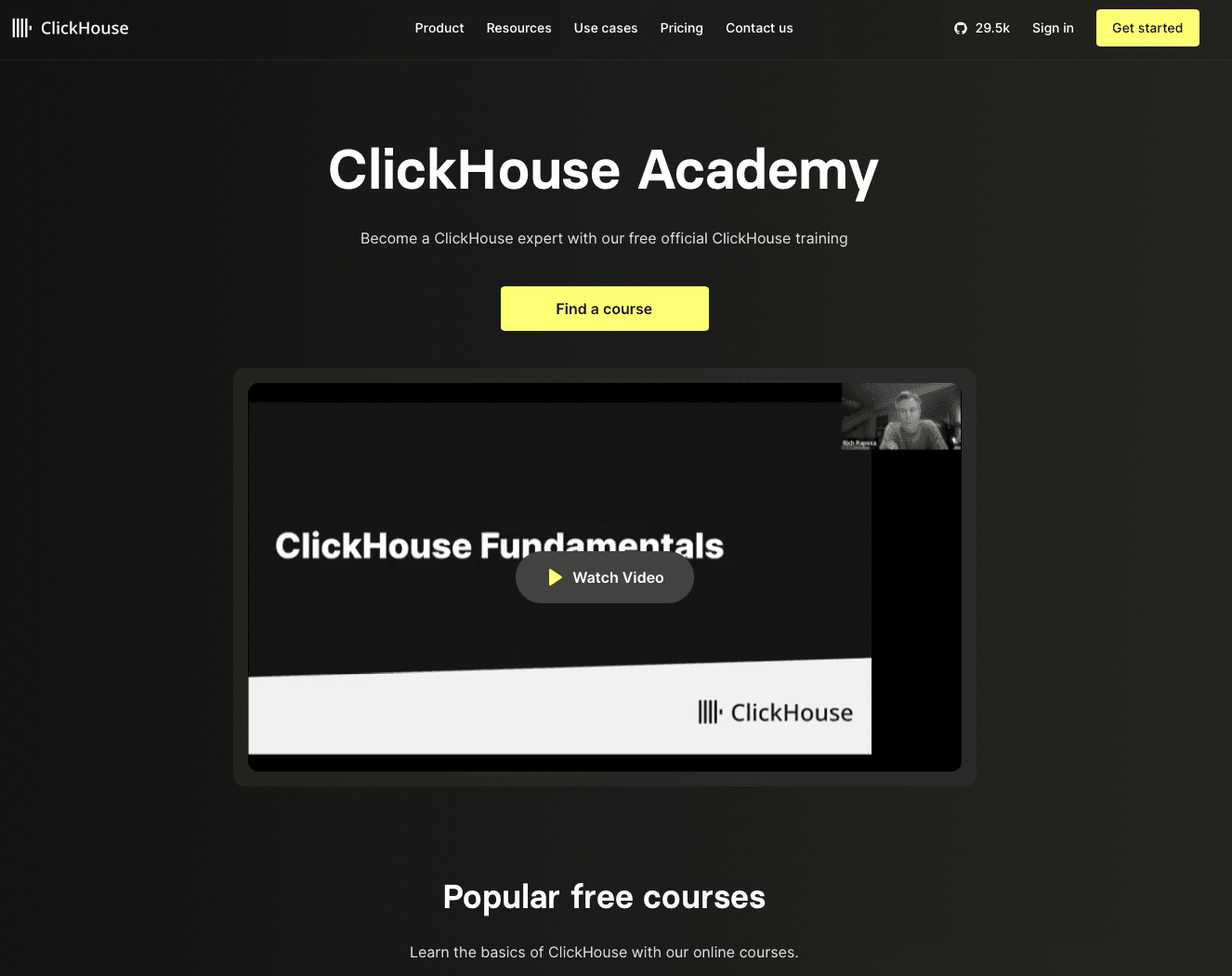 Let's start with the biggest resource first. ClickHouse Academy! This a legitimate gold mine of free content, put out to help people get up to speed with ClickHouse. What it is, why it is, what it's for, how to use it. Literally everything you need to get started is right there. Jump right to the Getting Started lesson here. This is, without a doubt, the single best resource to use first. I want to point this out so strongly, because so many people don't even know we have it! It's amazing. It's free. Check it out!
Ok, let's face it. Sometimes the flashy video content just isn't for some of us. I say that as someone who makes video content as part of their job. But, really, when I'm learning something, the first thing I do is check out the docs. Are there quickstarts? Are the docs updated? Are they easily read and understood? This stuff is critical. And I have great news for you, all of those are a YES from ClickHouse's documentation. Check out this quickstart. Documentation is absolutely critical for a technical product, and ours really helped me to get going quickly, and answer questions I had along the way. See the full docs here.
Of course we have a YouTube channel! It's 2023 afterall. You can find so many great videos here. There are over 100 videos there across a range of things. From videos on ClickHouse Cloud, to recordings of the release webinars and ClickHouse Community Meetups, there is so much content on there at your fingertips. I am going to be working on adding more cool stuff to this resource, so if you have any specific videos you want to see, or any topics you want to suggest, don't hesitate to let me know!
That's right. Did you know we had a Subreddit?? We do! It's right here! Also, you can find ClickHouse related things outside of just our Subreddit. I have used Reddit for a long time as a technical resource. In just about any product or solution, most likely you will not be the first person to ask a specific question. I would rather find someone else who had the problem and read / apply the solution they found, then having to ask a question, wait for a response, etc. Reddit is always great to check for new things and old problems.
This is such a great resource. What better way to be able to see whats happening, get support, and network with other ClickHouse users than directly in the Slack channel. There is around 4000 other ClickHouse fans in there right now, so there is no shortage of experts. This also includes experts who work for ClickHouse. So if you need to get a question answered, it may even be answered by the exact person that built the thing you're asking about. That is a great resource!
Chances are, you already know this one exists. Or, you do now, because this is exactly where you're reading this! Our Blog section is pretty huge! It's full of things like Customer Stories, blogs from Engineering, new stuff from the Product team, and stuff about the company and culture here at ClickHouse! This is a great resource to find out what has happened, and what is happening with all things ClickHouse. There is no shortage of material to catch up on here.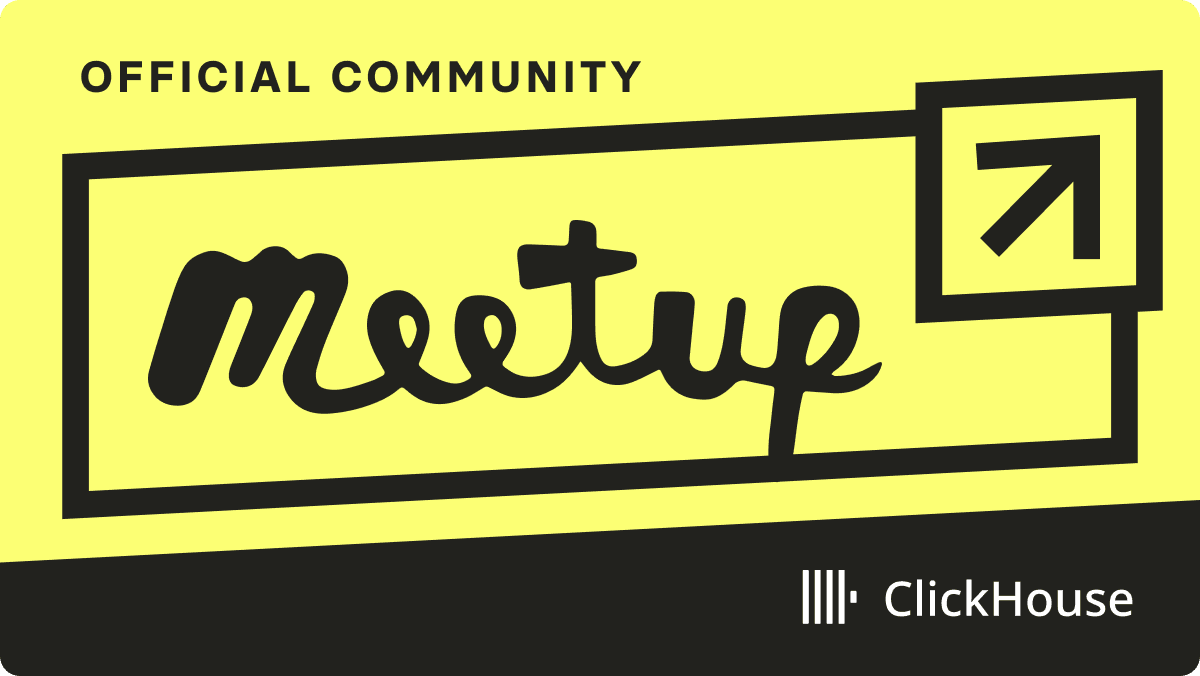 Are in-person events more your style? Mine too! Be sure to check out our Meetup.com groups. We're rolling out new groups, all over the world. So keep an eye out for your location, or you can even find me on Twitter, Slack, or Email to tell me where we should have a meetup next!
---
So as you can see, there are so many different ways to learn about ClickHouse, get help with ClickHouse, or just engage with the community to learn cool new stuff. As always, feel free to reach out if you ever have any questions, or if you just want to talk about cool stuff!